Christian Education Awareness Network (CEANet)
Est. Feb. 1997


A Question for Parents and Pastors to Consider:
When It Comes to K-thru-12 Education,
Why Are So Many Christian Children
Instructed by the World Instead of Christ?
A Statements to Ponder:
Compulsory Funding and Attendance is a Govt.
Establishment of Religion (Humanism) !
Quote from Thomas Jefferson:
"It is error alone which needs the support of government. Truth
can stand by itself." -- Thomas Jefferson, Notes on Virginia, 1782.

---
---
URL for this page: http://CEANet.net

This Page Last Updated On March 12, 2017

Click here for ==> CEANet Site Map
WHAT IS CEANet ??


The Christian Education Awareness Network (CEANet) is an E-mail list which provides members with articles, essays, and other related sources which demonstrate a need to restore education as a parental/Church ministry. Here is a short list of some of the areas under examination:

Creation vs. Evolution

Education (public, private, and homeschool)

S

eparation of School and State

G

lobalization Efforts

Government (international, national, state, and local)

Other Issues of Interest to Christians

Click Here to Access ==> CEANet's Worldview Foundational Tenets

Click Here to Access the ==> CEANet Message Number-to-Subject Listing

Click Here to Join the ==> CEANet E-mail List

If, for some reason, the CEANet E-mail List link does not work in your e-mail program, please send a message to James Boyes with the words PLEASE SUBSCRIBE in the body of the message text.

The following essay appeared as a CEANet post, and provides a sample of the type of message you will receive as a subscriber to the CEANet service:
---
Restoration of Education:
The Role of Parents and
the Body of Christ

by James Boyes, Host
Christian Education Awareness Network (CEANet)
To Access This Essay, Click Here ==> RESTORATION
---
Check Out These Links!!
Click Here to Visit Related Links!!==>

Click Here to Visit ==> CEANet Creation Related Links
Click Here to Visit ==> CEANet Homeschool-Related Links
Click Here to Access ==> CEANet Host Editorials
---
Click Here for ==> Recommended Books and Videos
---
Related Video Presentations at You Tube
---
---
---
Escaping Common Core: Setting Our Children Free (website)
---
CEANet Promo Bulletin Inserts and Flyers Page
---
---
Atheists Understand the Importance of Education (Why can't our Pastors?)

---
IndoctriNation: Public Schools and the Decline of Christianity in America

---
---
Report Card on Christian and Pro-Family Organizations (PDF File*)
---
---
Global Warming and Climate Change Links
---
Homeschooling from a Biblical Worldview
---
---
---
---
Christian Worldview Instruction, Testing and Grading
---
The Snare of College Accreditation
---
Evolution and the Judiciary (PDF File*)
---
---
---
Homeschool Wisdom and Research Resources
---
and
"Get the Kids Out" (PDF File*)
---
Why Christians Should Not Support Government Schools (PDF file*)
---
The Christian Church and para 501(c)3 (PDF File*)

---
Education Articles by Linda Schrock Taylor
---
Teachers, Curriculum, Control:
A "World" of Difference in Public and Private Schools
---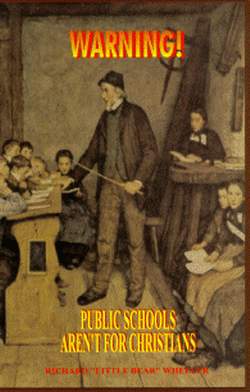 Click this link below to read Richard "Little Bear" Wheeler's essay:
WARNING! Public Schools Aren't for Christians!
Click Here to Access ==> Richard "Little Bear" Wheeler's Mantle Ministries Web Site
---
SEARCH the CEANet Website
---
*PDF files require the Adobe Acrobat Reader.
If you do not have the Acrobat Reader, click here ==>

---
To Join CEANet or Send A Message To CEANet Host, James Boyes,

To See Pictures of Your Host and His Family,

Click Here ==> Family Photos

Click Here ==> to access Flight Simulator Screenshots
---
Christian Answers Network - Are there answers to your questions about Christianity? Various respected Christian ministries join together to tackle tough questions about: Marriage & Family, Archaeology & the Bible, Christian Theology, Creation & Evolution, Government & Social Issues, and Religion & Cults. Thought-provoking, educational, and graphical - a Web site designed for the entire family.
---
URL for this page:
Christian Education Awareness Network (CEANet)
http://CEANet.net
---

---
World's Smallest Political Quiz
---

---
---
---
---